Overviews for IELTS Writing Task 1 – Global literacy
In Writing Task 1, identifying the main trends, differences, or stages is a key skill.
Practise with the question below, and then write an overview.  
Click on the tabs to see mine.
Write down the main differences
The chart below shows the proportion of adults able to read and write in different regions of the world.
Summarise the information by selecting and reporting the main features, and make comparisons where relevant.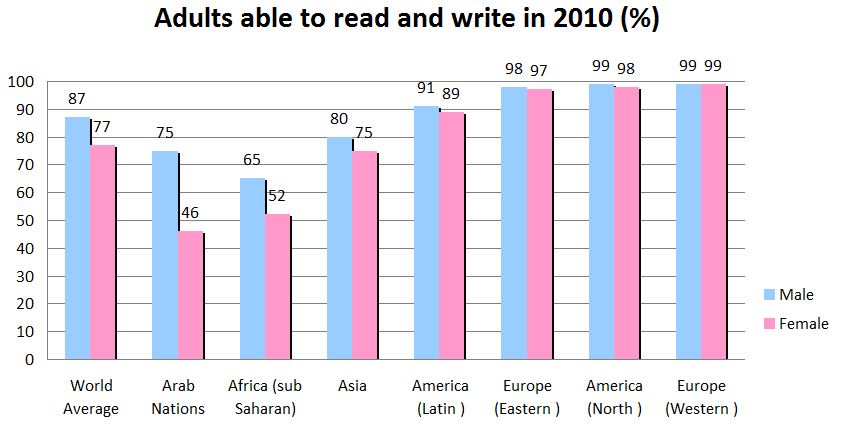 Now write down the main differences before proceeding to the next tab    

Comments on overviews
You need a clear overview to get a band score 7 for Task Achievement.
Task Achievement, Band score 7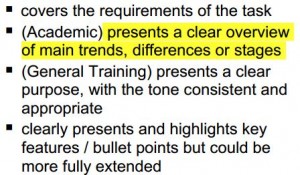 The word stages refers to processes, and in questions with figures you need to think about trends and differences.
If a question has changes over time, like in this one, it's best to mention both trends and differences.
If there are no trends, like in the one about Australian poverty, I would find at least two differences to mention.
Make it easy for the examiner to give you a 7 - use the word overall, and put your overview in a separate paragraph.
The overview is the first thing the examiner looks for, so don't hide it in the introduction or at the end.
Finally, if there's a total or an average, as in the question about literacy or the one about Australian poverty, I would consider it to be the most important information, so I'd include it in the overview.
For more information on Task 1 questions see here.
See my Task 1 model answers here.
See sample marked students' Task 1 answers here.