Comment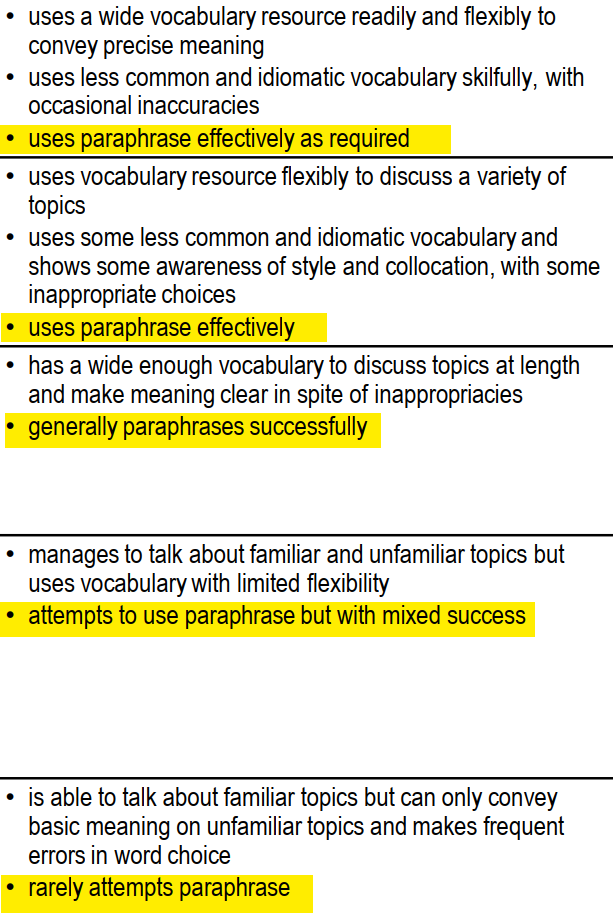 Paraphrasing is saying the same thing in different ways, which is something that native speakers in all languages do naturally.
These exercises help to improve your ability to paraphrase, which is a vital skill in the speaking test.
It is mentioned 5 times in the examiners criteria for speaking, as shown here.
You cannot get a high score for lexical resource unless you have the ability to paraphrase.
Complete the gap using the word in CAPITALS.
Use 1-5 words.
Keep the meaning as in the original sentence .
Click the + sign to see the answer.
I haven't been to Hanoi for years
AGES
It's [...] to Hanoi
I haven't done my homework yet
STILL
I [...] my homework.
I started playing tennis 2 years ago
FOR
I [...] 2 years.
I haven't seen Steve for over a year.
LAST
The [...] Steve was over a year ago.
He started studying English two years ago.
BEEN
He [...] two years.
It's a long time since I last went to Stonehenge.
FOR
I [...] a long time.
When did you get your new mobile?
SINCE
How long [...] your new mobile?